All eight show homes have now arrived at Gateforth Park, marking a significant step in the progress of our brand new residential park in the Vale of York.
With the site cleared and roadways built, we're now at an exciting time of phase one when we have put all the show homes in position on site.
We've partnered with Prestige Homeseeker Park & Leisure Homes to offer a great range of luxury yet affordable residential park homes. Every home at Gateforth Park will be brand new, detached and can be bespoke if required.
Prestige Homeseeker's models are all made in the UK and put together on site. As can be seen from the main picture, the home arrives in two halves and is then installed onto its concrete foundation. In a very quick and efficient procedure, the halves are then joined together and levelled. Finally, internal finishes are carried out by a specialist team from Prestige, meaning the homeowner can move straight into their new home.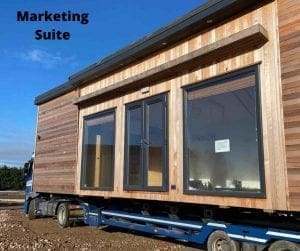 The fantastic homes available at Gateforth Park are:
Once complete, Gateforth Park will comprise 168 residential park homes. Phase one will involve the installation of 50 bases, and is a great time to buy as there are some fantastic introductory offers available on the park homes, as well as a 20 per cent discount on monthly pitch fees until May 2024. Buyers of phase one homes can be assured that we'll be taking measures to keep disruption to a minimum during the development of phase two.
Check out the homes that will be available at Gateforth Park here and book an appointment for a virtual tour (in the light of current Covid-19 restrictions) with us today!
For more information about Gateforth Park, our residential park homes, or to arrange a viewing by video, please call Alan on 07866 225 187 or Dawn on 01423 323 190 / email dawnhughes@yhlparks.co.uk.