New to Park Home Living?
This guide explains more about the buying process
Useful information before you buy
MOBILE HOMES ACT
Information for park home residents in England on their rights and obligations under the Mobile Homes Act 1983
www.gov.uk/government/collections/park-homes
WRITTEN STATEMENT ACT
The Written Statement explained
A Written Statement is an important document between the park and the homeowner that sets out the terms in which you will be entitled to keep your park home on the park. 
This document details your legal rights and must include:
Who the agreement is between
The starting date
Details of your pitch (new written agreements will also include a plan)
Details of your home
The date the site owner's planning permission expires (in most cases, there is no specified date, so you will be able to live on the park indefinitely)
Pitch fees – the amount, when payable, what services are covered by the pitch fee and the annual review date
A list of additional charges (if applicable)
A park owner is required by law to give you a copy of the Written Statement 28 days before you commit to purchase. This time frame allows you to review the terms and understand what owning a park home and living on the park will mean. If you're looking to proceed more quickly, it is possible for a shorter time period to be agreed.
For further information on park home law, you may wish to contact the Leasehold Advisory Service (LEASE); a Non Departmental Public Body (NDPB) funded by government to provide free advice on the law relating to Park Homes in England parkhomes.lease-advice.org.
Choosing your home
Here at Gateforth Park our park homes and lodges are available in a wide range of styles, sizes and layouts.
When selecting your ideal home, functionality and layout is very important as this could be your 'forever home'.
Décor, soft furnishings and appliances can all be upgraded to suit your personal taste and this will be discussed and planned at your spec meeting.
Once you have selected your plot here on the park, and determined the size and model of park home, we will provide you with a turnkey price based on your choices.
Once your park home has been built, we will organise for it to be delivered and sited ready for you to start your next chapter.
Insurance
It is vitally important you insure your new home prior to move day.
Please ask the team to recommend a range of specialist companies who will advise on the appropriate level of cover, giving peace of mind.
Warranty Information
All our park homes are built to BS3632, the residential standard for park homes.
This means park homes and lodges are built for residential living and you will discover they are energy efficient, built to last and once registered benefit from a 10 year manufacturers structural warranty.
Read more about the 10 year Platinum Warranty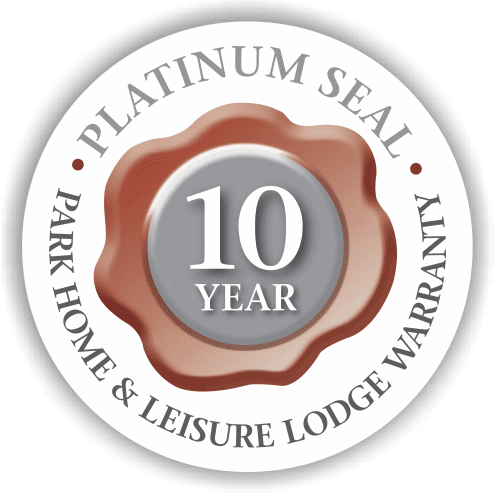 Decking
When it comes to choosing your sun deck, it couldn't be easier. We will discuss your requirements, colour, size and configuration and the team at AB Sundecks are on hand to offer their expertise to ensuring your decking dream becomes a reality
The steel frame is made from 100% recyclable galvanised steel and in house cutting ensures complete quality control. You will be provided a 'no obligation quote'
Key Features
Slip resistant
Low maintenance – No sanding, painting or staining required, waterproof
Durable and Strong – Built on a galvanised steel frame and won't shrink or warp and there are no splinters or cracking
Built to British Standards – Class 1 Y fire resistant, slip resistant BS 7976
Made in the UK
Environment friendly – No trees felled, fully recyclable, Eco considerate production
Easy to clean
Available in a wide range of colours
Cost effective – Options to suit all budgets, 10 year structural guarantee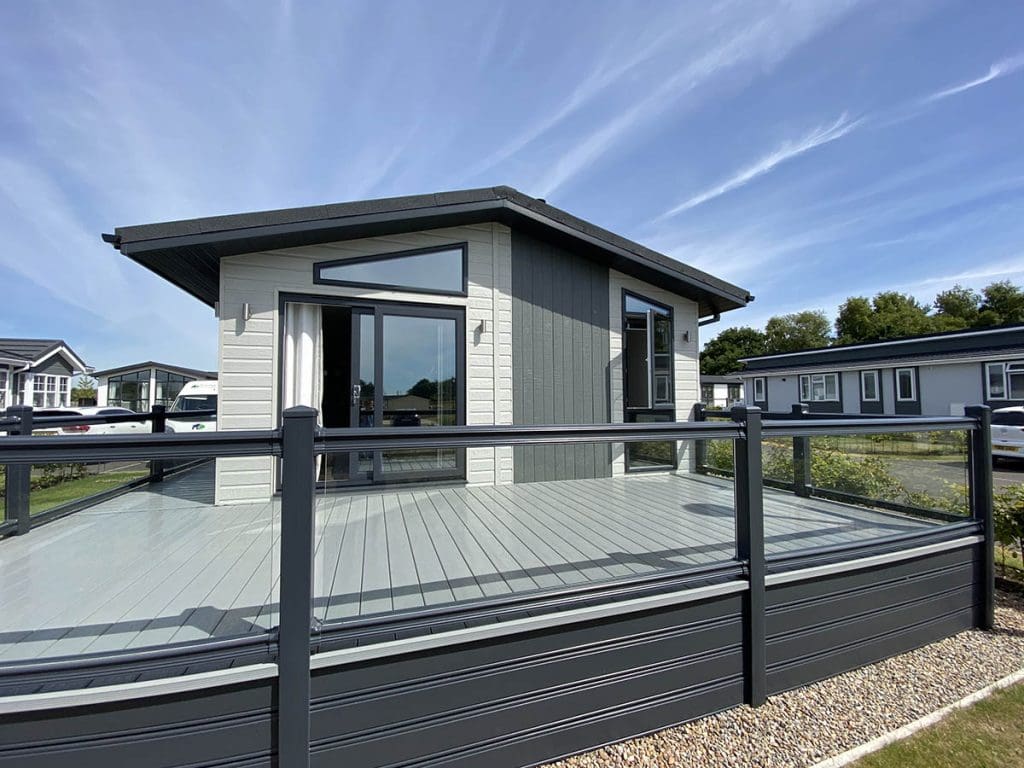 Storage
Included with the purchase of your park home is an essential 8×10 BIOHORT shed with the option to upgrade the interior to include double electric socket and light
Sited on a sturdy base, your shed will provide you with excellent storage, is lifetime maintenance free, rainwater proof with a secure locking mechanism.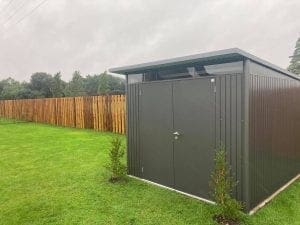 Landscaping