It's been another busy month here at Gateforth Park with lots of developments on site and the exciting arrival of more new residents.
New residents at Gateforth Park
After welcoming our very first residents Sue and Gez just a few weeks ago, we're delighted that three more couples have moved into their brand new homes on our park during October.
They are now settling in to their new life at Gateforth in some stunning homes – our Majestic and Reprise models, as well as a bespoke home.
Interest remains high in our new residential park, with plots and homes continuing to be reserved and sold. And, with more homeowners expected to move in over the next few months, it's so lovely to see our Gateforth Park community developing so nicely and to hear from our new residents about how much they feel at home here already.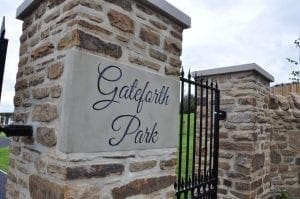 Progress on site
As always, work continues apace on the park, and it was a fantastic moment when our impressive gates were installed at the beginning of October. As a gated residential park, it's really important to us that our new gates not only provide security and peace of mind to our homeowners but also form a stunning entrance to Gateforth Park. We have to say they really do look absolutely brilliant!
Over the last few weeks we've also been busy digging paths and putting in paving for our new owners. Each garden also features a fabulous Austrian-manufactured Biohort shed that comes free with every home.
When is the right time to make the move?
You might be thinking of downsizing or moving to a more rural location but are perhaps not sure when would be the best time to do it.
Maybe you're wondering whether to move at all until all this Covid-19 uncertainty is sorted out or maybe the pandemic has precipitated your plans to move but you're not sure how to begin.
If you're considering making the move to a residential park, even if it's not for another year or so, then now is the time to get the process started. This is especially important if you are looking at a bespoke home, as the market is currently very busy and manufacturers are working as hard as they can to meet demand.
Our friendly and experienced team at Gateforth Park can work with you to help you to fulfil your objectives with the minimum of fuss and stress. We can help you to achieve the best price for the sale of your current property and also make sure that your new home is exactly what you are looking for by exploring bespoke options that will meet your needs now and in the future.
Why not get in touch for a chat about our residential park homes near Selby? Even if you feel your plans have changed because of the pandemic, it's worth giving us a call for some guidance, information and advice about when and where to start.
You can also book an appointment to view the park and our homes. Following the Prime Minister's announcement on Saturday, October 31st, we are still open for Covid-safe tours of Gateforth Park under the new regulations which state that 'viewings and valuations of residential properties to buy and rent can continue.'
To get in touch with us, call Dawn or Alan on 01757 616 646.