The first months of 2021 have brought some new show homes, new residents and new site managers to Gateforth Park, along with lots of other exciting developments!
It's a constant pleasure to see the park transform with every home that arrives or flowerbed that's planted, while the changing weather and seasons also add a new perspective.
The cold, frosty mornings in January and early February cast a stunning winter light over the park, and really highlighted what a beautiful setting we have here. In the last week or so it has looked different again as the first signs of Spring have begun to appear.
Growing community
We may only be a couple of months in to 2021, but already this year we've welcomed more new residents to Gateforth Park's growing community. We now have 12 occupied homes, and are expecting the owners of two more to move in before the end of March.
Some of our new residents are keen golfers and are looking forward to the re-opening of Selby Golf Course – right next door to our park – on March 29th. Others are looking forward to discovering the local area and all it has to offer as restrictions gradually ease.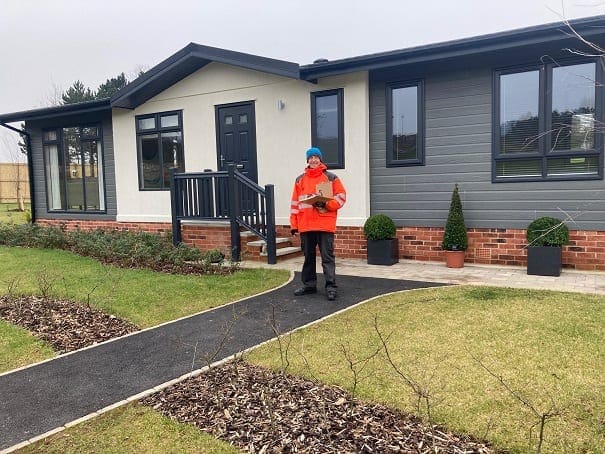 Everyone is getting to know each other and the park is really starting to feel like a proper community now. The street signs have been installed and our friendly postie, Miles (pictured above), has become a regular visitor to the park, along with the supermarket vans driving in with home deliveries.
New show homes

Three more very special park show homes have now arrived at Gateforth Park to join the Sonata and Avanti that were already here.
The exquisite Plantation (pictured above) is a Gateforth Park exclusive with its impressive central lounge and stylish décor throughout.
The stunning Majestic's key features include a vaulted ceiling, colour co-ordinated sofa, curtains and carpets, and a king size bed in the master bedroom.
The lovely Reprise has a gorgeous, calming interior, with a bright cream gloss kitchen and beautiful neutral tones throughout. If you like the look of the Reprise, please make sure to book your viewing asap as, due to manufacturing capabilities, this model will not be available at Gateforth Park again until the end of the year!
Park managers
Our park managers Amanda Kenney and Andrew Balderson have now joined us here at Gateforrth Park. They are living on site and will ensure the smooth running of the park and its facilities.
They will also be responsible for all maintenance of the site and, when our purpose-built community building is up and running, they will be organising social activities and events.
You can read more about Andrew and Amanda in our blog here.
Book your viewing today!
By the end of 2020, an amazing 40% of our first phase plots and homes had been sold or reserved, and interest in our park homes is growing once again as we head towards Spring.
Why not pay us a visit and see what we have to offer? Viewings of Gateforth Park and our show homes are carried out in accordance with strict health and safety guidelines. We also offer virtual viewings if you prefer.
Call Dawn or Alan on 01757 616 646 for more information.