Tell us about yourself
Our names are Nev and Tina Carr and we have been married for 30 years last August. Moving onto Gateforth Park is a wonderful new adventure in our lives. We moved onto Lakeside in Gateforth Park from a village just six miles away where we had lived for over 26 years. Nev has worked from home part time since Covid and I am retired we have no pets as we plan to continue having plenty of holidays at home and abroad.
When did you move to Gateforth Park?
We moved onto Gateforth Park in June 2022.
What model of park home do you have?
We chose the Bella Vista which means Beautiful View, which is exactly what we have living on Lakeside, overlooking the lake. We decided on a 55x22ft with 2 bedrooms which enabled us to also have a study for Nev and a utility to put the washing machine in to reduce the noise that may have occurred in the open plan kitchen, dining and lounge area. We changed the family bathroom and en-suite shower around to enable a jacuzzi bath to be put into our en-suite and a double shower in the family bathroom.
We were able to bespoke our home and are both extremely happy with the outcome.
Have you lived on a residential park before?
We have never lived on a residential park before but the appeal for us was the park home itself as it is all on one level and we had been living in a large detached 4 bed house with a double garage and workshop from which we were looking to downsize to a bungalow. The fact that on the residential park you can buy a larger home than most of the bricks and mortar bungalows and it is detached appealed to us.
Why did you choose to move to a residential park?
We wanted to live on a residential park that would enable us to live within a like-minded community of people in a beautiful quiet safe environment. The age restriction of over 50s appealed to us as well, as we felt we would have more in common.
What was it about the site that appealed to you?
Nev saw the map in Selby Golf Club where he is a member in the Winter of 2019. The location was a huge draw because it is next to Nev's golf club and we both know the area, alongside the fact you could buy one on a lake with fishing rights. We both liked the idea of it being residential and not a holiday park which could become our permanent residence.
What were your initial impressions of Gateforth Park?
We had driven or cycled past the Gateforth Park development many times over the years and we are looking forward to watching it grow until the park is finished.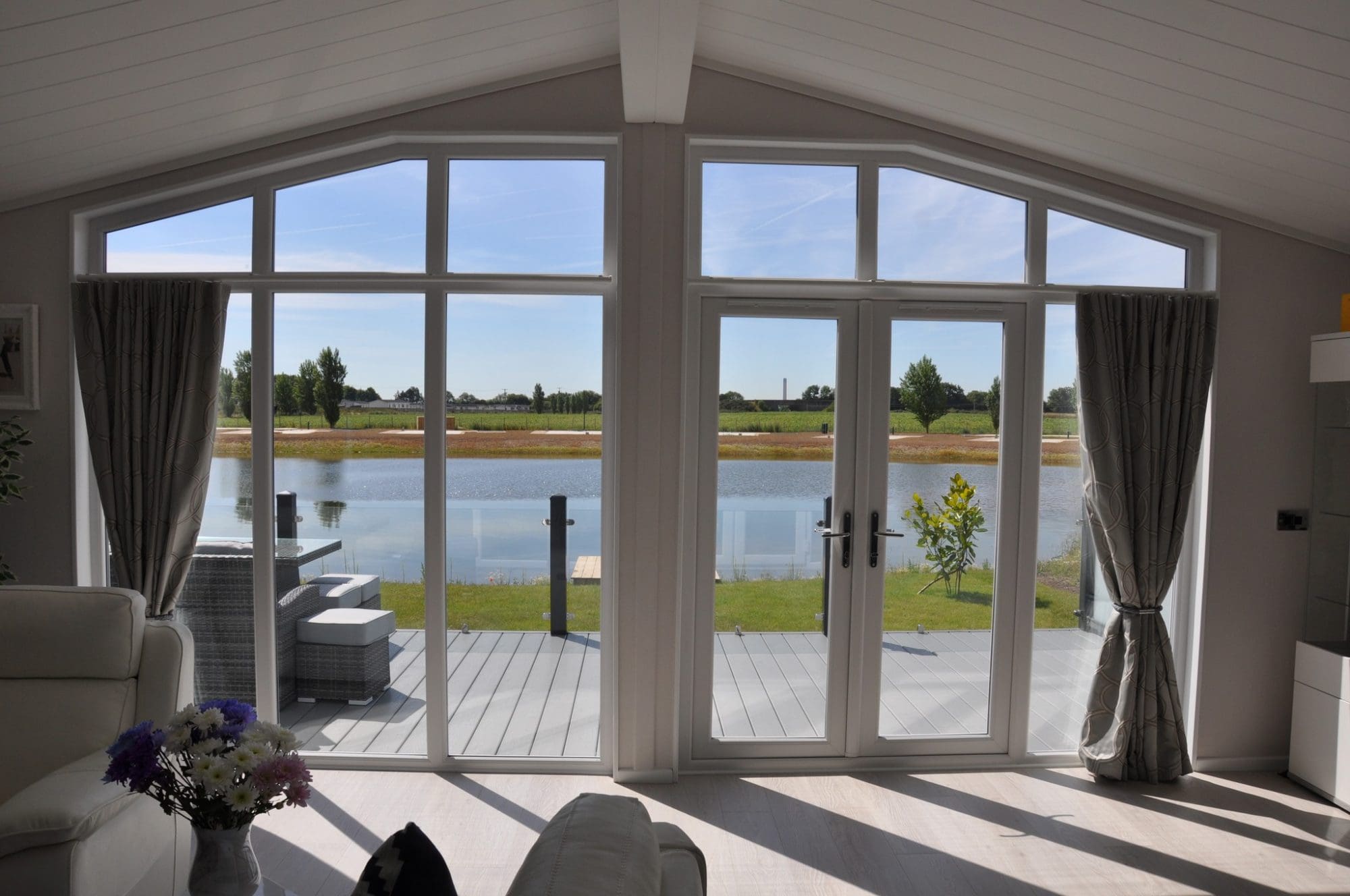 How did you find the whole moving process?
We found the whole process of downsizing to our new park home quite stressful at times, as are all house moves and we had not undertaken one for over 21 years. Both Alan the salesman and Phil one of the owners of Gateforth Park were extremely helpful and knowledgeable answering all our many questions at our first meeting way back in the winter of 2019. That first meeting helped to convince both Nev and me that it would be the right move for us. Going down to Prestige (the park home manufacturer) and seeing how the park homes are built was really interesting and useful. Visiting Prestige again to bespoke our home made our journey all the more exciting, as we got to see several complete show homes and choose our exterior and interior finishings.
I suppose the stressful bit was surrounding the sale of our property as we ended up selling ours nearly eight months before we moved into our new home on Gateforth Park which meant we had to rent. We were fortunate enough for the last couple of months to be able to rent a fabulous  holiday lodge from York House Leisure, the owners of Gateforth Park, and this did help to alleviate some of the pressure.
How helpful were the Gateforth Park team throughout the process?
From the beginning Alan and Phil were helpful answering as many of our questions as they could and getting back to us with a reply if they could not be answered immediately, with the development being in its infancy. The Gateforth Park team has changed since we began our journey, although Alan is still here, but we have found the whole team to be extremely supportive and helpful with any issues we have encountered and have tried to ensure that they are addressed as soon as possible.
How are you settling in?
We both felt at home here at Gateforth Park as soon as we moved onto Lakeside. Even though the second phase we are living on is not finished yet, it is lovely to watch as it develops.
What do you like about living in a park home?
We love the locality of our park home overlooking the lake, which gives us a beautiful view every morning when we wake up. Living in a park home is like living in a bungalow with it all being on one level, but we have the added bonus of the decking for dining out on or just having a drink with family and friends. We changed a few features of the design to suit us and we love the light and airy feel of our open plan lounge, diner and kitchen area along with our bespoke ensuite with a jacuzzi bath.
What do you like about living on a residential park?
We like living on a residential park because it is within a gated community of sociable friendly people and it gives us peace of mind and sense of security. We chose Gateforth Park because we were familiar with the area and it is ideally situated for the local amenities and not too far away from many of the attractions Yorkshire has to offer.
How about the location?
The location is perfect. We love to visit the coast, especially Whitby, and the Yorkshire Dales. There are so many fabulous walks or bike rides you can do nearby, along with excellent bus and train services if you want to pop into York, Hull, Leeds, Manchester and many more places.
How are you finding the Gateforth Park community?
The community here at Gateforth Park have been very welcoming, stopping to chat and ask if we are settling in okay whilst out walking around the park.
What would you say to people considering moving to a residential park?
It is lovely to live in a quiet peaceful environment, with sociable like-minded people where we feel safe to lock up and leave for our holidays in the knowledge that our home is secure.