It's been a fantastic summer here at Gateforth Park as we've welcomed more residents to their new homes and have been assisting others with their preparations to join us in the near future.
With just six plots left for Phase 1 of our residential park in North Yorkshire, we are now looking towards the next phase of Gateforth's development, and will be announcing exciting news about this soon.
In the meantime, let's take a look back over the last couple of months at the park.
Making the most of the sunshine
The beautiful summer weather from July to September brought with it lots of outdoor activity at Gateforth as homeowners and park staff made the most of the sunshine to get cracking on some tasks.
Our team of staff and local contractors have been very busy keeping the park immaculate and making sure our residents' homes look exactly as they imagined when they started their journey with us towards park home living. From tending the communal lawns and flowerbeds to adding decking around the homes, laying new paths and patios in our residents' gardens and installing the garden sheds that come free with every home, our team have really made the most of the dry weather!
Our homeowners, too, have been enjoying the outdoors, creating grand designs in their gardens, discovering the lovely Vale of York countryside, or simply relaxing and enjoying the peace and tranquillity of the park. There was even a spot of blackberry picking when one of our residents spied fruit in abundance on a bush just down the road!
A growing park home community
We've been delighted to welcome more new residents into their park homes over the summer, and it really feels like there's a little community here now. And this spirit of togetherness was on display recently when we held an event to support the World's Biggest Coffee Morning in aid of Macmillan Cancer Support.
We had a fantastic day full of coffee, cakes and other highlights such as a raffle, and our wonderful homeowners raised £330 for the charity. A huge well done to all involved!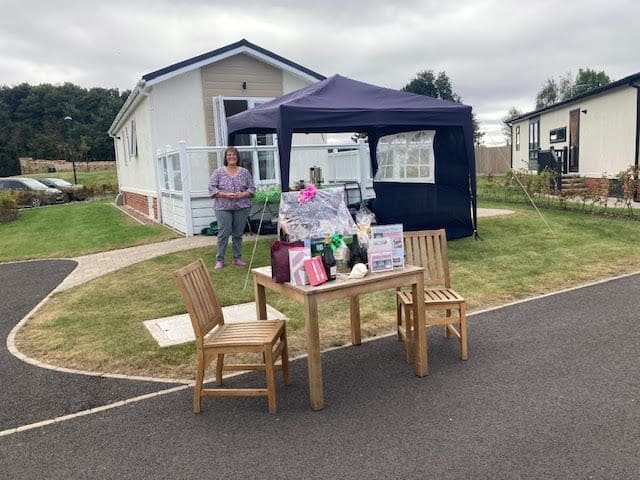 As the community grows further, we're looking forward to Phase 2 of the development at Gateforth Park and the construction of a purpose-built community building, featuring a reception area, meeting and activity area, and a shop.
Excellent choice of park homes
One of the things our buyers love is the large range of park homes from which to choose. For example, on Phase 1 we have a 14ft wide 'single unit home', some 40 x 20ft 'twin units' and even some as large as 52 x 22ft.  All of them have different interiors and layouts, too! We have been busy with customer visits to our park home manufacturer Prestige, where there is a great selection of show homes that really help in the decision making process.
On to Phase 2
Phase 2 of our park home development here at Gateforth is now underway, with the plots around the fishing lake currently under construction. These should be ready for spring next year and we are now taking enquiries for them.
We have also created a new path into the northbound entrance, which will make it easier for our residents to walk to the local village of Thorpe Willoughby.
Find out more
If you like the look of life on a residential park, please do come and see us at Gateforth Park. We'll take you on a tour of our site and our homes, and answer any questions you may have about moving to a park home.
You can also keep up to date with which plots and homes are still available, as well as seeing details and pictures of all our Prestige park homes, here.
Alternatively, do give Alan or Dawn a call on 01757 616 646 to discuss your plans or to book a tour of Gateforth Park.