Over the last few months, work has been steaming ahead at Gateforth Park. Formerly a Mushroom Farm, the site is covered by circa 30 acres of concrete and houses a number of very large derelict buildings, so the challenge is certainly there to transform it into the beautiful surroundings suitable for park living in Selby, North Yorkshire.
With enquiries already coming in from eager potential residents, and the most popular plots and park homes attracting significant interest, we thought it would be a good time to update everyone on what's happening and what's planned next.
Breaking up concrete
The many thousands of tons of concrete that need to be cleared to make way for the natural, green surroundings of our park will not go to waste – on the contrary!  This readily available resource will be taken up, crushed and graded to a number of different sizes, allowing us to recycle vast quantities of hard core and so helping reduce our carbon footprint. The on-site crusher and associated machinery are all helping to make short work of the concrete!
There are also miles of reinforcing steel rods and bars which are also being recycled, so we are creating as little waste as we can. The metal did look quite impressive once it had been piled up – almost like modern art!
Dry on the ground
Anyone who lives in our part of the world will know that we have had more than a little rainfall in recent weeks. Numerous public spaces have become water-logged as heavy rain fell quickly, overwhelming drainage.
At Gateforth Park, however, things have remained impressively dry. Despite the downpours, the ground has coped incredibly well and water has soaked away very quickly. These photos were taken just a day after the latest heavy rain and show how dry the land had become already. We're reassured that the site is a great place to build new park homes, giving residents peace of mind for the future.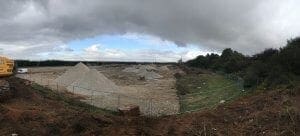 The site of our lake
One area of the park where we will welcome water is the beautiful fishing lake – and it's already proving a natural place for water to sit. We'll have luxury park homes with stunning views across the lake, and of course plenty of opportunities for fishing in your free time.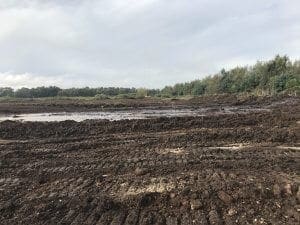 We're making use of water elsewhere on site, too, with a smaller pond near the community centre. Views of water can be so relaxing and restorative, so we want to ensure it is planned in to the surroundings and becomes a fundamental part of our park.
It's also a great way to encourage wildlife. YHL Parks already holds David Bellamy Gold Awards for conservation across our holiday parks, where we use wildflowers, insect houses and many more features to invite birds and animals into the surroundings. We're looking forward to developing a similar scheme here at Gateforth Park, creating a welcoming habitat for nature as well as something beautiful for our residents to enjoy.
What next?
Over the coming weeks, we'll be making the final steps in clearing the site of its previous industrial features. Then we'll be starting to plot out the new layout of the park, from the park homes to the lake, community centre to the woodland and dog walking areas.
We have chosen our contractors so we're looking forward to getting them on site and seeing the next stage of the development begin to take shape. From now on, progress will be quick, and we'll be ready to bring visitors onto site within just a few short months.
It won't be long until the welcoming community at Gateforth Park is fully established, offering a fantastic new life to all our residents.
Park Living in Selby
If you'd like to know more about Gateforth Park, click here to see the phase one site plan. Alternatively, contact us and we'll be happy to talk about what Gateforth Park could offer you.